For Sale
For Rent
Buildings
Precon
About
Map
Properties for Sale in Doral
Condos for Sale in Doral
| | Type | Price Range | # Available | Browse |
| --- | --- | --- | --- | --- |
| | All Condos | $300,000+ | 0 | |
| | Luxury Condos | $1,000,000 - $3,000,000 | 0 | |
| | Ultra Luxury Condos | $3,000,000+ | 0 | |
Homes for Sale in Doral
| | Type | Price Range | # Available | Browse |
| --- | --- | --- | --- | --- |
| | All Homes | $500,000+ | 0 | |
| | Luxury Homes | $1,000,000 - $3,000,000 | 0 | |
| | Ultra Luxury Homes | $3,000,000+ | 0 | |
Rental Properties in Doral
Condos for Rent in Doral
| | Type | Price Range | # Available | Browse |
| --- | --- | --- | --- | --- |
| | All Condo Rentals | $5,000+ | 0 | |
| | Luxury Condo Rentals | $10,000+ | 0 | |
Homes for Rent in Doral
| | Type | Price Range | # Available | Browse |
| --- | --- | --- | --- | --- |
| | All Home Rentals | $5,000+ | 0 | |
| | Luxury Home Rentals | $10,000+ | 0 | |
Doral Condo Buildings
| | Building | Price Range | Unit Types | Completed | Details |
| --- | --- | --- | --- | --- | --- |
| | Doral Cay | $398K to $550K | 3 & 4 bedrooms | 2014 | |
Doral Pre Construction
| | Project | Price Range | Unit Types | Completion | Details |
| --- | --- | --- | --- | --- | --- |
| | Midtown Doral | from $360K | 1 - 3 bedrooms | | |
| | Oasis Park Square | $800K to $1M+ | 4 & 5 bedrooms | 2014 | |
| | Vintage Estates | $558K to $699K | 3 & 4 bedrooms | 2014 | |
| | Vintage Place | $420K to $450K | 3 & 4 bedrooms | 2014 | |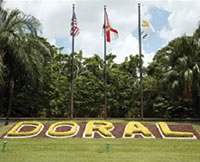 Doral Homes Real Estate
Doral is a mixed suburban and industrial neighborhood with 46,000 residents in northern-central Miami Dade county. It is conveniently located one mile from Miami International Airport. Doral is east of the Turnpike, west of the Palmetto Expressway, south of Medley and north of Sweetwater.
Doral real estate is made up mostly of single family homes for sale and townhomes for sale. You can also find a nice selection of homes and townhouses for rent in Doral.
Doral gets its name from the famous Doral Golf Resort & Spa, which is named after Doris and Alfred Kaskel, the original builders. Doral is a combination of their names. In the late 1950s, Alfred and Doris Kaskel bought 2,400 acres of land to build the golf course and hotel. It wasn't until the 1980s that Doral real estate started to grow. Since then Doral has been one of the fastest growing cities in Miami-Dade County. The city incorporated in 2003.
The Doral Golf Resort & Spa, known throughout the world for it's golf courses, is what Doral is most famous for. There are a large number of storefronts, businesses and shopping malls. With its proximity to Miami International Airport, there are a large amount of trade related businesses including importers and exporters. Doral is home to Miami Dade College West Campus.
Map of Doral