For Sale
For Rent
Buildings
Precon
About
Map
Properties for Sale in Sunny Isles
Condos for Sale in Sunny Isles
| | Type | Price Range | # Available | Browse |
| --- | --- | --- | --- | --- |
| | All Condos | $300,000+ | 1301 | |
| | Luxury Condos | $1,000,000 - $3,000,000 | 433 | |
| | Ultra Luxury Condos | $3,000,000+ | 175 | |
Homes for Sale in Sunny Isles
| | Type | Price Range | # Available | Browse |
| --- | --- | --- | --- | --- |
| | All Homes | $500,000+ | 35 | |
| | Luxury Homes | $1,000,000 - $3,000,000 | 22 | |
| | Ultra Luxury Homes | $3,000,000+ | 3 | |
Rental Properties in Sunny Isles
Condos for Rent in Sunny Isles
| | Type | Price Range | # Available | Browse |
| --- | --- | --- | --- | --- |
| | All Condo Rentals | $5,000+ | 381 | |
| | Luxury Condo Rentals | $10,000+ | 118 | |
Homes for Rent in Sunny Isles
| | Type | Price Range | # Available | Browse |
| --- | --- | --- | --- | --- |
| | All Home Rentals | $5,000+ | 14 | |
| | Luxury Home Rentals | $10,000+ | 5 | |
Sunny Isles Condo Buildings
Building
Price Range
Unit Types
Completed
Details
400 Sunny Isles
$650K to $2.5M
studios, 1, 2 & 3 bedrooms
penthouses, skylofts
2015
Acqualina
$500K to $6.7M
2, 3, 4, 5 & 6 bedrooms
2006
Chateau Beach Residences
$1.1M to $3.7M
2, 3, & 4 bedrooms
2015
Jade Beach
$745K to $3.3M
1, 2, 3, 4 & 5 bedrooms
2008
Jade Ocean
$765K to $10.9M
1, 2, 3, 4 & 5 bedrooms
2009
Mansions at Acqualina
$6M to $50M
3, 4, 5 & 8 bedrooms
2015
Millennium Sunny Isles
$1.1M to $1.9M
2, 3 & 4 bedrooms
1999
Ocean Four
$650K to $2.7M
2, 3 & 4 bedrooms
2007
Ocean One
$800K to $2.7M
2, 3 & 4 bedrooms
1999
Ocean Three
$736K to $2.6M
2, 3 & 4 bedrooms
2003
Ocean Two
not available
2 & 3 bedrooms
2001
Regalia Miami
$6.5M to $12.5M
4 & 5 bedrooms
2014
Trump Palace
$697K to $3.1M
1 - 5 bedrooms
2006
Trump Royale
$650K to $5.0M
1 - 3 bedrooms
2008
Trump Tower One
$698K to $2.0M
studios, 1, 2 & 3 bedroom
2008
Trump Tower Three
$899K to $2.5M
2 & 3 bedrooms
2009
Trump Tower Two
$195K to $2.0M
2 & 3 bedrooms
2008
Turnberry Ocean Colony
$1.6M to $9.0M
2, 3, & 4 bedrooms
2006
Sunny Isles Pre Construction
| | Project | Price Range | Unit Types | Completion | Details |
| --- | --- | --- | --- | --- | --- |
| | Jade Signature | $1.7M to $25M | 1, 2, 3, 4, & 5 bedrooms | 2016 | |
| | Muse Residences | from $1.9M | 2 - 5 bedrooms | 2017 | |
| | Porsche Design Tower | $2.5M to $9M | 3, 4 & 5 bedrooms | 2014 | |
| | Residences by Armani/Casa | $1.35M to $5.6M | 2 - 4 bedrooms | 2017 | |
| | The Estates at Acqualina | $3.9M to $40M | 3 - 6 bedrooms | 2017 | |
| | The Ritz-Carlton Residences | $2M to $25M | 2 - 4 bedrooms | 2016 | |
| | Turnberry Ocean Club | $4M to $35M | 3 - 6 bedrooms | 2018 | |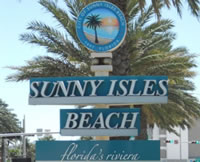 Sunny Isles Luxury Real Estate - Sunny Isles Condos For Sale
Search our Sunny Isles MLS listings for the finest Miami luxury real estate, condos & homes for sale in Sunny Isles Florida.
Sunny Isles is located just a few minutes away from Aventura, Bal Harbour and Miami Beach, in the middle of the turquoise waters of the Atlantic Ocean and the Intracoastal.
In the last decade, Sunny Isles real estate has gone through a transformation with luxury high rise pre construction buildings dotting every beachfront, while the real estate on the west side of Collins Avenue was revamped with retail shops in upgraded strip malls that serve the many oceanfront condos in the area.
Sunny Isles has some remarkable condos which have been built with the highest standards in real estate quality and technology. In other words, these are smart buildings which give you the time to really enjoy life. State of the art amenities, amazing views, superb finishes, private elevators some with fingerprint access, concierge services and much more make these constructions true gems in front of the ocean. Ocean Reserve, Solis, Ocean IV, Jade Beach, and St.Tropez are some of the pre construction projects offering great deals for residential & commercial properties in Sunny Isles.
Spectacular high-rise condos, a number of pre construction projects and luxurious hotels make Sunny Isles one of the best places to purchase real estate in Miami and other beach areas of Florida. Shopping, dining and entertainment facilities are available all around. In short, Sunny Isles is a small community with high standards, offering a host of real estate options for you and your family.
Map of Sunny Isles