For Sale
For Rent
Buildings
Precon
About
Map
Properties for Sale in Bal Harbour
Condos for Sale in Bal Harbour
| | Type | Price Range | # Available | Browse |
| --- | --- | --- | --- | --- |
| | All Condos | $300,000+ | 140 | |
| | Luxury Condos | $1,000,000 - $3,000,000 | 33 | |
| | Ultra Luxury Condos | $3,000,000+ | 3 | |
Homes for Sale in Bal Harbour
| | Type | Price Range | # Available | Browse |
| --- | --- | --- | --- | --- |
| | All Homes | $500,000+ | 23 | |
| | Luxury Homes | $1,000,000 - $3,000,000 | 14 | |
| | Ultra Luxury Homes | $3,000,000+ | 9 | |
Rental Properties in Bal Harbour
Condos for Rent in Bal Harbour
| | Type | Price Range | # Available | Browse |
| --- | --- | --- | --- | --- |
| | All Condo Rentals | $5,000+ | 10 | |
| | Luxury Condo Rentals | $10,000+ | 2 | |
Homes for Rent in Bal Harbour
| | Type | Price Range | # Available | Browse |
| --- | --- | --- | --- | --- |
| | All Home Rentals | $5,000+ | 5 | |
| | Luxury Home Rentals | $10,000+ | 1 | |
Bal Harbour Condo Buildings
| | Building | Price Range | Unit Types | Completed | Details |
| --- | --- | --- | --- | --- | --- |
| | Bellini | not available | 3, 4 & 5 bedrooms | 2005 | |
| | One Bal Harbour | $499K to $4.1M | 2, 3, 4 & 5 bedrooms | 2007 | |
| | St. Regis The Residences | not available | 1, 2, 3, 4 & 5 bedrooms | 2011 | |
Bal Harbour Pre Construction
| | Project | Price Range | Unit Types | Completion | Details |
| --- | --- | --- | --- | --- | --- |
| | Oceana Bal Harbour | from $2M | 1, 2, 3, 4 & 5 bedrooms | 2016 | |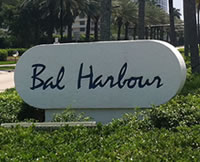 Bal Harbour, Finest Oceanfront Real Estate
Bal Harbour Florida is a small village, just under 1 square mile, on the northern tip of Miami Beach, between Biscayne Bay and the Atlantic Ocean. It is located equidistant from Miami and Fort Lauderdale. One of South Florida's finest ocean-front areas, Bal Harbour is able to keep its small-town feel while attracting people from across the world. If you want to experience the faster paced life from time to time, South Beach is only minutes away!
Bal Harbour is a very exclusive place to own real estate. Some of the newest and most luxurious condominium buildings in the Miami Beach area are in Bal Harbour. You can purchase luxury condos in the St. Regis building. If you are looking at single family homes, there are a few beautiful neighborhoods with waterfront and bayfront estate homes in Bal Harbour. Bal Harbour real estate also includes a nice selection of homes for rent in Bal Harbour and luxury condos for rent.
Robert C. Graham was named developer of the village of Bal Harbour and plans were being drawn up in the 1930s, but were put on hold as World War II began. Robert C. Graham leased the land to the United States Air Corps for $1/year. Barracks were set up on the west side of Collins, the ocean front was used as a rifle range and a prisoner's camp was where the Bal Harbour Shops currently reside today. After the war, swampland was filled, sea walls were built and utilities contracts were signed. Bal Harbour became the first planned community in Florida to have its utilities installed underground. The first home constructed in Bal Harbour resides at 160 Bal Cross Drive.
Built by the Whitman family, in 1965, the Bal Harbour Shops are the biggest attraction in Bal Harbour. There are designer boutiques and gourmet restaurants all in a beautiful open-air luxury shopping center. Saks Fifth Avenue, Neiman Marcus, Gucci and Chanel are just some of the boutiques you can shop in. The avid golfer can enjoy one of the many championship golf courses near Bal Harbour.
Map of Bal Harbour