For Sale
For Rent
About
Map
Properties for Sale in Williams Island
Condos for Sale in Williams Island
| | Type | Price Range | # Available | Browse |
| --- | --- | --- | --- | --- |
| | All Condos | $300,000+ | 0 | |
| | Luxury Condos | $1,000,000 - $3,000,000 | 0 | |
| | Ultra Luxury Condos | $3,000,000+ | 0 | |
Homes for Sale in Williams Island
| | Type | Price Range | # Available | Browse |
| --- | --- | --- | --- | --- |
| | All Homes | $500,000+ | 0 | |
| | Luxury Homes | $1,000,000 - $3,000,000 | 0 | |
| | Ultra Luxury Homes | $3,000,000+ | 0 | |
Rental Properties in Williams Island
Condos for Rent in Williams Island
| | Type | Price Range | # Available | Browse |
| --- | --- | --- | --- | --- |
| | All Condo Rentals | $5,000+ | 0 | |
| | Luxury Condo Rentals | $10,000+ | 0 | |
Homes for Rent in Williams Island
| | Type | Price Range | # Available | Browse |
| --- | --- | --- | --- | --- |
| | All Home Rentals | $5,000+ | 0 | |
| | Luxury Home Rentals | $10,000+ | 0 | |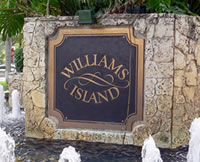 Williams Island Real Estate : Williams Island Condos & Homes for sale
Williams Island is an 80-acre, gated community enclave on the Intracoastal Waterway in Aventura heralded internationally as "The Florida Riviera", a private playground for celebrities, sports personalities, other high-profile individuals, young families, and everyday people who appreciate the art of fine living.
The island consists of ten Williams Island condos, eight of which are differentiated by their number: Williams Island 1000, Williams Island 2000, Williams Island 2600, Williams Island 2800, Williams Island 3000, Williams Island 4000, Williams Island 6000, Williams Island 7000, the Mediterranean Village and the most recent Bellini Williams Island. Also part of Williams Island is Island Estates; it consists of two islands that contain direct bay front single family homes with expansive Intracoastal views. The 31 lots are ¼ acre in size and have homes that range from 5,000 to 8,000 sf in size.
Williams Island offers unsurpassed amenities. The 27,000 sf, two-story Williams Island Spa includes all the trappings of a top of the line fitness and wellness center plus indoor pool, hair salon and lounge areas. The Williams Island Tennis Club, with 16 hard and Har-Tru courts, offers private and group lessons from world-class, certified tennis pros, as well as a bustling schedule of tournaments, clinics and league games. The Island Club pool, and each building's private pools. The North and South Marinas offer 106 slips accommodating yachts up to 160 feet with a 7 foot draft. The walking/jogging routes within the community allow you to cover from a 1/4 to close to 2 mile with waterfront vistas; the Kid's Playground with multi-leveled play equipment, swing sets are under a beautiful aerodynamic sun shade to keep everyone cool and comfortable.
Dining options include The Island Club Pool Bar & Grille which offers delicious, healthy fare in an informal, open-air setting where bathing suits are welcome. The Café, overlooking center court at the Williams Island Tennis Center, is a bright, airy and comfortable eatery designed as a grille room that serves popular hot entreés, deli sandwiches, wraps, healthy salads, daily soup choices, including full bar service. Lastly, Island Club is the more formal dining room in the Island.
Williams Island takes security to a new level. After passing through a guarded gate you are welcomed by an officer that mans the front desk, screens visitors and conducts roving patrols around the grounds. Officers also are on duty, monitoring vehicular and pedestrian traffic at each entrance and exit gate on the Island.
What makes Williams Island's alluring is its location; ideally situated within Aventura (the "City of Excellence") with its close proximity to shopping, entertainment and the best beaches in South Florida.
Map of Williams Island