For Sale
For Rent
Buildings
Precon
About
Map
Properties for Sale in Brickell
Condos for Sale in Brickell
| | Type | Price Range | # Available | Browse |
| --- | --- | --- | --- | --- |
| | All Condos | $300,000+ | 1997 | |
| | Luxury Condos | $1,000,000 - $3,000,000 | 317 | |
| | Ultra Luxury Condos | $3,000,000+ | 55 | |
Homes for Sale in Brickell
| | Type | Price Range | # Available | Browse |
| --- | --- | --- | --- | --- |
| | All Homes | $500,000+ | 47 | |
| | Luxury Homes | $1,000,000 - $3,000,000 | 22 | |
| | Ultra Luxury Homes | $3,000,000+ | 5 | |
Rental Properties in Brickell
Condos for Rent in Brickell
| | Type | Price Range | # Available | Browse |
| --- | --- | --- | --- | --- |
| | All Condo Rentals | $5,000+ | 146 | |
| | Luxury Condo Rentals | $10,000+ | 23 | |
Homes for Rent in Brickell
| | Type | Price Range | # Available | Browse |
| --- | --- | --- | --- | --- |
| | All Home Rentals | $5,000+ | 5 | |
| | Luxury Home Rentals | $10,000+ | 1 | |
Brickell Condo Buildings
| | Building | Price Range | Unit Types | Completed | Details |
| --- | --- | --- | --- | --- | --- |
| | 1100 Millecento | $245K to $799K | studios, 1 & 2 bedrooms | 2014 | |
| | Asia Condo Brickell Key | $890K to $7.8M | 2, 3, & 4 bedrooms | 2008 | |
| | Brickell City Centre | $490K to $2M | 1, 2, & 3 bedrooms | 2015 | |
| | Brickell Heights | $389K to $586K | 1 to 3 bedrooms, penthouses | 2016 | |
| | BrickellHouse | $259K to $6.5M | studios, 1, 2 & 3 bedrooms | 2014 | |
| | Bristol Tower | $650K to $2.3M | 1, 2, 3, 4 & 5 bedrooms | 1993 | |
| | Carbonell Brickell Key | $395K to $2.3M | 1, 2, 3, & 4 bedrooms | 2005 | |
| | Epic Miami | $379K to $6.1M | 1, 2 & 3 bedrooms | 2008 | |
| | Four Seasons Millennium Tower | $378K to $4.3M | studios, 1, 2 & 3 bedroom | 2003 | |
| | Icon Brickell | $305K to $1.7M | studios, 1, 2 & 3 bedrooms | 2008 | |
| | Jade at Brickell Bay | $424K to $1.9M | 1, 2, 3 & 4 bedrooms | 2004 | |
| | MyBrickell | $214K to $460K | studios, 1 & 2 bedrooms | 2014 | |
| | One Tequesta Point | $330K to $1.6M | 1, 2, 3, 4, & 5 bedrooms | 1995 | |
| | Santa Maria Brickell | $3.5M to $5.5M | 2, 3, 4 & 5 bedrooms | 1997 | |
| | Three Tequesta Point | $425K to $2.7M | 1, 2, & 3 bedrooms | 2001 | |
| | Two Tequesta Point | $375K to $1.8M | 1, 2, 3, 4, & 5 bedrooms | 1999 | |
Brickell Pre Construction
| | Project | Price Range | Unit Types | Completion | Details |
| --- | --- | --- | --- | --- | --- |
| | 1010 Brickell | $350K to $1M+ | 1 - 3 bedrooms | 2016 | |
| | Brickell Flatiron | from $400K | 1 - 3 bedrooms | 2017 | |
| | Echo Brickell | $380K to $2.25M | 1 - 4 bedrooms | 2016 | |
| | Le Parc at Brickell | $299K to $799K | studios, 1 - 3 bedrooms | 2015 | |
| | Nine at Mary Brickell Village | $290K to $973K | 1 - 3 bedrooms | 2015 | |
| | SLS Brickell | $275K to $880K | 1 - 3 bedrooms | 2016 | |
| | The Bond at Brickell | $280K to $950K | studios, 1 - 3 bedrooms | 2015 | |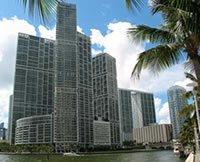 Brickell, "Manhattan of the South"
Brickell is a dense, high-rise residential neighborhood with many high-end, luxury condominiums. It lies between the Miami River and the Rickenbacker Causeway. North of SE 15th Rd, it is mostly a mix of financial and residential. South of SE 15th Rd it is mostly residential. There are currently over 31,000 residents in Brickell.
Brickell real estate is mostly made up of luxurious high-rise condominium towers, like Asia, Epic, Icon Brickell, Jade and Santa Maria. There are many condos in Brickell available. You can find luxury condos and ultra-luxury condos. While not plentiful, there are some homes for sale in Brickell. Brickell also has a good selection of rentals available. One of the interesting areas in Brickell real estate is the man-made island of Brickell Key.
Brickell's history can be traced back to 1870, when William and Mary Brickell moved from Cleveland and acquired most the land that makes up present-day Brickell. Created in 1915, only a few of the spacious mansions from "Millionaire's Row" still exist. Mansions have been replaced by luxury high-rise condos that define Miami's skyline. Today, Brickell's neighborhoods are the fastest growing neighborhoods in Miami.
Brickell has the largest concentration of international banks in the United States. Along with the financial buildings, Brickell Avenue is also home to many popular Miami restaurants, shops and entertainment spots. Traditionally a financial district, recently Brickell real estate has revved up with the construction of many residential condominium buildings. At the heart of Brickell lies the Mary Brickell Village, a French style village of restaurants and shops. There is a Florida International University campus in Brickell, the downtown campus. Public transportation is used more in Brickell than anywhere else in Miami. Metrorail, has one station in Brickell at the Brickell Station and there are five Metromover stations inside the Brickell Loop. The Metromover is free and connects with the Metrorail.
Map of Brickell