For Sale
For Rent
Buildings
Precon
About
Map
Video
Properties for Sale in Coral Gables
Condos for Sale in Coral Gables
| | Type | Price Range | # Available | Browse |
| --- | --- | --- | --- | --- |
| | All Condos | $300,000+ | 179 | |
| | Luxury Condos | $1,000,000 - $3,000,000 | 46 | |
| | Ultra Luxury Condos | $3,000,000+ | 5 | |
Homes for Sale in Coral Gables
| | Type | Price Range | # Available | Browse |
| --- | --- | --- | --- | --- |
| | All Homes | $500,000+ | 461 | |
| | Luxury Homes | $1,000,000 - $3,000,000 | 218 | |
| | Ultra Luxury Homes | $3,000,000+ | 106 | |
Rental Properties in Coral Gables
Condos for Rent in Coral Gables
| | Type | Price Range | # Available | Browse |
| --- | --- | --- | --- | --- |
| | All Condo Rentals | $5,000+ | 17 | |
| | Luxury Condo Rentals | $10,000+ | 3 | |
Homes for Rent in Coral Gables
| | Type | Price Range | # Available | Browse |
| --- | --- | --- | --- | --- |
| | All Home Rentals | $5,000+ | 45 | |
| | Luxury Home Rentals | $10,000+ | 14 | |
Coral Gables Condo Buildings
| | Building | Price Range | Unit Types | Completed | Details |
| --- | --- | --- | --- | --- | --- |
| | 100 Andalusia | $459K to $889K | studios, 1, 2 & 3 bedroom | 2005 | |
| | The Gables Club Towers | not available | 2, 3, 4, 5 & 7 bedrooms | 1997, 2003 | |
Coral Gables Pre Construction
| | Project | Price Range | Unit Types | Completion | Details |
| --- | --- | --- | --- | --- | --- |
| | Biltmore Parc | $950K to $1.7M | 2 - 3 bedrooms | 2016 | |
| | Merrick Manor | $370K to $1200K | studios, 1, 2 & 3 bedroom | TBA | |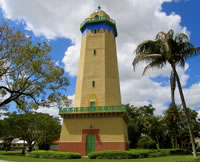 Coral Gables, "The City Beautiful"
Coral Gables, also known as "The City Beautiful" and "The Gables" is located in Miami-Dade county, just southwest to Downtown Miami. Being just 4 miles from Miami International Airport (MIA), frequent travelers will find the location very suitable. Coral Gables is also one of the few pedestrian-friendly cities in Miami-Dade County. Be sure to check out some of the communities inside Coral Gables real estate (Cocoplum, Deering Bay, Gables Estates, Hammock Oaks and Lakes, Gables by the Sea, Ponce Davis, Tahiti Beach).
When it comes to Coral Gables real estate, the city is most widely known for its historic 1920s and 1930s-era homes. You can find many luxury homes and ultra-luxury homes in Coral Gables. Although it is primarily known for its Single-family homes, recently there have been an influx of condominium buildings such as The Gables Club Tower. The real estate market in Coral Gables is heating up!
Coral Gables was founded during the Florida land boom of the 1920's by developer George Merrick. The architecture of the community is Mediterranean Revival Style and has remained so over the years thanks to its strict building and zoning codes. It is home to the University of Miami which was established in 1925 and the Coral Gables Biltmore Hotel, built in 1926, a National Historic Landmark.
The largest freshwater pool in the United States is also in Coral Gables. The Venetian Pool was created in 1924 from an old coral rock quarry. It has recently undergone a major renovation in 2009. Another attraction, the Fairchild Tropical Botanic Garden is an 83-acre natural preserve on the edge of Coral Gables. The Coral Gables Trolley is a practical way to get around the city. Miracle Mile and the downtown area boast some of Miami's finest restaurants, galleries and shops with over 200 retailers and 70 restaurants.
Map of Coral Gables
Coral Gables Video