For Sale
For Rent
Buildings
Precon
About
Map
Properties for Sale in Aventura
Condos for Sale in Aventura
| | Type | Price Range | # Available | Browse |
| --- | --- | --- | --- | --- |
| | All Condos | $300,000+ | 0 | |
| | Luxury Condos | $1,000,000 - $3,000,000 | 0 | |
| | Ultra Luxury Condos | $3,000,000+ | 0 | |
Homes for Sale in Aventura
| | Type | Price Range | # Available | Browse |
| --- | --- | --- | --- | --- |
| | All Homes | $500,000+ | 0 | |
| | Luxury Homes | $1,000,000 - $3,000,000 | 0 | |
| | Ultra Luxury Homes | $3,000,000+ | 0 | |
Rental Properties in Aventura
Condos for Rent in Aventura
| | Type | Price Range | # Available | Browse |
| --- | --- | --- | --- | --- |
| | All Condo Rentals | $5,000+ | 0 | |
| | Luxury Condo Rentals | $10,000+ | 0 | |
Homes for Rent in Aventura
| | Type | Price Range | # Available | Browse |
| --- | --- | --- | --- | --- |
| | All Home Rentals | $5,000+ | 0 | |
| | Luxury Home Rentals | $10,000+ | 0 | |
Aventura Condo Buildings
| | Building | Price Range | Unit Types | Completed | Details |
| --- | --- | --- | --- | --- | --- |
| | Bella Mare | $720K to $3.0M | 2, 3, 4 & 5 bedrooms | 2006 | |
| | Bellini Williams Island | $875K to $1.4M | 3 & 4 bedrooms | 2013 | |
| | Echo Aventura | $1.3M to $41.9M | 2 - 5 bedrooms | 2015 | |
| | Hamptons South | not available | 2, 3, & 4 bedrooms | 2004 | |
| | Porto Vita | not available | 2, 3 & 5 bedrooms | 2000, 2004 | |
Aventura Pre Construction
| | Project | Price Range | Unit Types | Completion | Details |
| --- | --- | --- | --- | --- | --- |
| | Aventura Park Square | $450K to $895K | 1 - 3 bedrooms | 2017 | |
| | Marina Palms | from $600K | 2 - 4 bedrooms | 2014 | |
| | Privé | $1.7M to $6M+ | 2 - 4 bedrooms | | |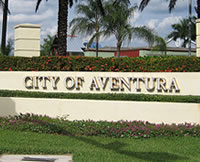 Aventura Condos and Homes Real Estate
Aventura is a planned city in the northeastern part of Miami-Dade county. It's development began in the 1970s, where it was originally called Turnberry. It was later changed to Aventura, Spanish for "adventure". There are currently over 35,000 residents living here.
There is a huge selection of condos for sale in Aventura, as it makes up a large part of the Aventura real estate market. There is also a large selection of luxury condos and ultra-luxury condos in Aventura. There are a number of upscale condominium buildings in Aventura, like the Porto Vita building and Hamptons South. Although there are not as many single family homes in Aventura, you can still find some very nice ones. For those who are looking for something a little more short-term, check out Aventura's rentals. Inside Aventura real estate you can find the 80 acre community of Williams Island
Aventura is home to the luxury resort Turnberry Isle, where it has two 18-hole championship golf courses. The fifth largest shopping mall in the United States, the Aventura Mall, can also be found here. If you are looking for outdoor shopping, "The Promenade Shops" or "The Shoppes at the Waterways." may interest you. Florida International University's Biscayne Bay Campus is here as well. The City of Aventura has an Arts & Cultural Center, an elegant high-tech facility that provides a wide range of performing arts and cultural programming options. Right next to it is the Aventura Charter School which along with public and private elementary and high schools give the citizens of Aventura many options to choose from.
Map of Aventura