For Sale
For Rent
Precon
About
Map
Properties for Sale in Surfside
Condos for Sale in Surfside
| | Type | Price Range | # Available | Browse |
| --- | --- | --- | --- | --- |
| | All Condos | $300,000+ | 121 | |
| | Luxury Condos | $1,000,000 - $3,000,000 | 21 | |
| | Ultra Luxury Condos | $3,000,000+ | 26 | |
Homes for Sale in Surfside
| | Type | Price Range | # Available | Browse |
| --- | --- | --- | --- | --- |
| | All Homes | $500,000+ | 48 | |
| | Luxury Homes | $1,000,000 - $3,000,000 | 6 | |
| | Ultra Luxury Homes | $3,000,000+ | 2 | |
Rental Properties in Surfside
Condos for Rent in Surfside
| | Type | Price Range | # Available | Browse |
| --- | --- | --- | --- | --- |
| | All Condo Rentals | $5,000+ | 23 | |
| | Luxury Condo Rentals | $10,000+ | 8 | |
Homes for Rent in Surfside
| | Type | Price Range | # Available | Browse |
| --- | --- | --- | --- | --- |
| | All Home Rentals | $5,000+ | 2 | |
| | Luxury Home Rentals | $10,000+ | 1 | |
Surfside Pre Construction
| | Project | Price Range | Unit Types | Completion | Details |
| --- | --- | --- | --- | --- | --- |
| | FENDI Chateau Residences | $5M to $22M | 3 - 5 bedrooms | 2016 | |
| | Surf Club Four Seasons | $2M to $15M | 2 - 6 bedrooms | 2016 | |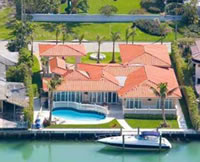 Surfside Real Estate
Contact our team of experienced Surfside real estate agents to buy luxury real estate, condos & homes for sale in Surfside Florida.
Surfside is located south of Bal Harbour and in between Aventura, Sunny Isles Beach, Miami Beach and the famous South Beach. Collins Avenue, the main avenue in the area, runs through Surfside providing great access from where ever you come and to where ever you need to go. It is a great location for shopping, dining and to do business. The exclusive boutiques and restaurants of Bal Harbour Shoppes, Harding Avenue and Kane Concourse provide entertainment at your footsteps.
Like the beautiful view from marvelous Miami Real Estate, the stunning ocean front real estate in Surfside allows you to enjoy the wonderful beaches of the area and the peaceful community while at the same time being close to the South Beach action. The Beach House & The Lanai are a few of the many beautiful real estate projects coming up in the area.
Map of Surfside