Posted on February 26th, 2016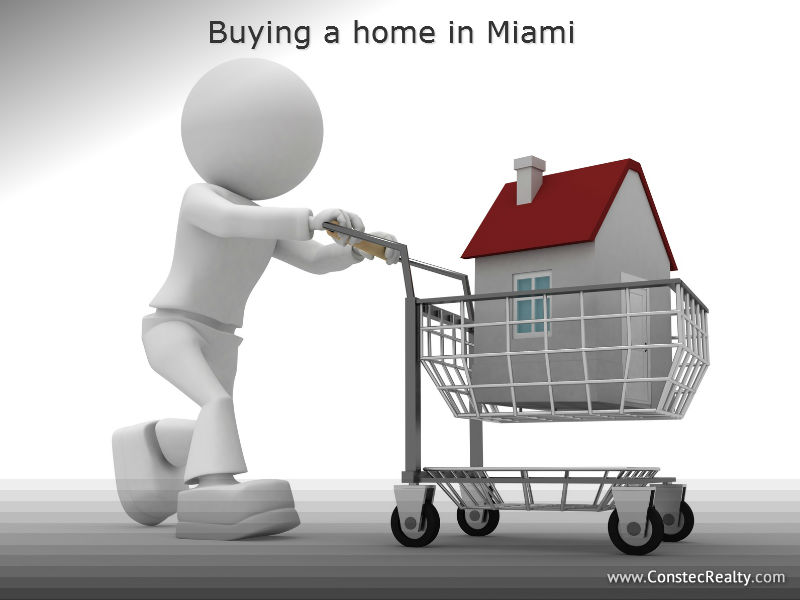 What is the process of buying a home in Miami?
Constantly we receive calls and emails from people, especially foreigners, that want to buy properties in Miami but have no idea where to start and the unfamiliar terrain intimidates them.
The process of buying a home, house, apartment or mansion is very similar but varies depending on whether it is a new home/pre-construction or resale property. Here we describe the process and the most important points to understand when buying a property in Miami.
The commission of the realtors
The first point I want to make clear is that the buyer does not pay the commission to the agent/realtor who is working for him. In all cases, the commission of the agent working for the buyer is paid by the seller at the day of closing. The seller pays the commission to both agents/brokers, the one representing the buyer and the one representing the seller. The commission is established from the moment that the property is available on the market and it is split equally between the two agents.
Pre-Construction
When buying pre construction the commission of the agent/realtor representing the buyer is paid by the developer of the project.
Choose your property and purchase options
Foreigners can buy any type of real estate property in Miami; it all depends on the needs and financial capability of the buyer. As you contact us let us know what you are looking: If you prefer something in pre construction or finished; which areas you are interested in, price range, number of bedrooms and bathrooms and any other characteristic that is important to you. The more information you give us the better we will be able to serve you.
With this information we provide you with a list of all the properties available in the market based on your purchasing needs, this can include, of course, different areas and different type of properties. In Miami (USA), unlike many countries, realtors have access to all properties available in the market. Real estate companies and brokers use a shared system with a full database of properties for sale or for rent called the MLS (multiple listing services).
Real estate agents, as well as real estate companies collaborate with each other and compensate each other creating a database with thousands of properties. The beneficiary is the buyer as he avoids having to go from office to office in search of the ideal property. We can show you everything available that suits your needs.
Once you pre-selected the properties that most interest you, we make appointments to go to visit them. We make visits until we find the house, condo or property that is right for you and your needs.
Pre-Construction
If you prefer buying pre construction in Miami, we send all the information about the projects: plans, finishes, services, maintenance cost, photos, prices and all units available that suit your taste and needs. We also take our clients to pre-construction sales centers where you can see the finishes, layouts and views that the units will have. We also negotiate the contract for you and accompany you in every step.
Availability of funds or obtaining a mortgage
Foreigners who buy a residential property in Miami have the option to obtain financing. Usually, foreigners need to contribute around 30% to 40% of the purchase price. The financing will also depend on the cost of the property or if the property is in a condo building or condo hotel residence. Financing plans and prices vary dependent on assets and income of the buyer, use of property (i.e. investment property, second home, primary residence) and the type of property you want to buy.
Of course, you can also make your purchase in cash. You must ensure that funds are in a bank in the United States or that they can be transferred to an account here.
Pre-Construction
Most pre construction projects offer the same method of payment:
10% at reservation.
20% with the signing of the contract.
30% divided into two or three parts during construction.
50% with the delivery of the property.
For the last 50% you could seek financing on your own but purchase contracts for preconstruction property are most of the time cash contracts.
Purchase offer
Once you have chosen the property we will prepare and present an offer; which is actually a contract of sale.
In order to make the most educated decision possible; before making the offer, we will inform you which are the latest comparable sales in the area, the conditions under which these properties were sold, the market trend in the area and improvements or deteriorations in the area in terms of the present and future.
We do this analysis in order to present a real and fair offer. The offer is accompanied by a good faith deposit generally between 5% and 10% of the purchase price of the property, which is deposited in an escrow or trust account with a real estate lawyer.
Of course, before making the offer we will inform you all the details of the purchase, the amount of property taxes, maintenance costs or administration if the property is located in condo building or gated community. We will provide you the statutes and rules of the community and help you with the application process.
Process of transferring ownership
Once the offer is accepted and the negotiation is completed, the process of transferring ownership officially begins. This process is complex and requires the assistance of several professionals and several steps. (This process we do in collaboration with other professionals such as inspectors, lawyers, etc.) The contract of sale is a legal document with different expiration dates, which have to be met exactly as specified in the contract to avoid penalties and cancellation.
Closing or Transfer of Ownership
The culmination of the process of buying a property in Miami is commonly referred to as closing. On closing day, the seller, buyer, real estate agent, lawyer of each party and a notary public meet at the closing table in the real estate company or the title company. Importantly, the parties (seller, buyer) do not need to be in person for the time of closing. Today you can receive documents electronically, sign documents before closing and courier documents back to closing agent.
The buyer must have made a transfer of the remaining funds to the account of the closing agent at least one day before the closing date. Personal checks, traveler's checks, cash, etc. are not accepted.
When you buy a property in Miami there are charges associated with the transfer which are called closing costs. These are in addition to the purchase price and most of them have to be settled at closing. The buyer must bring a check for the purchase price plus closing costs which is usually between 1 and 2% of the value of the property (excluding costs associated with loan in the event there is financing).
If the buyer used a mortgage to purchase the property, the title company will explain all the documents to be signed, such as: note and mortgage, all the forms associated with the mortgage, the closing statement, which details all the costs associated with the transfer of ownership.
Distribution of funds
The closing company or the real estate attorney is the authority responsible for distributing the funds to the appropriate parties. There is no exchange between the buyer and the seller; it is all done through the real estate attorney / title company. If the buyer obtained a mortgage, the bank gives precise instructions to the title company to deliver the funds to the seller once all requirements are completed.
The handover of keys
Once all funds were distributed, delivering keys it is the most exciting part and the climax of this process. Always be sure to get all the keys for the house as well as the ones for the garage, electronic keys, mail keys, the keys of the storage units, etc.
Also the seller must give the new owner all valid guarantees, like alarm system and appliances and the list of service providers.
To work with Andres, your experienced luxury realtor, and Constec Realty Services, an established real estate agency that specializes in luxury Miami real estate, contact us now.
---
Posted on January 25th, 2016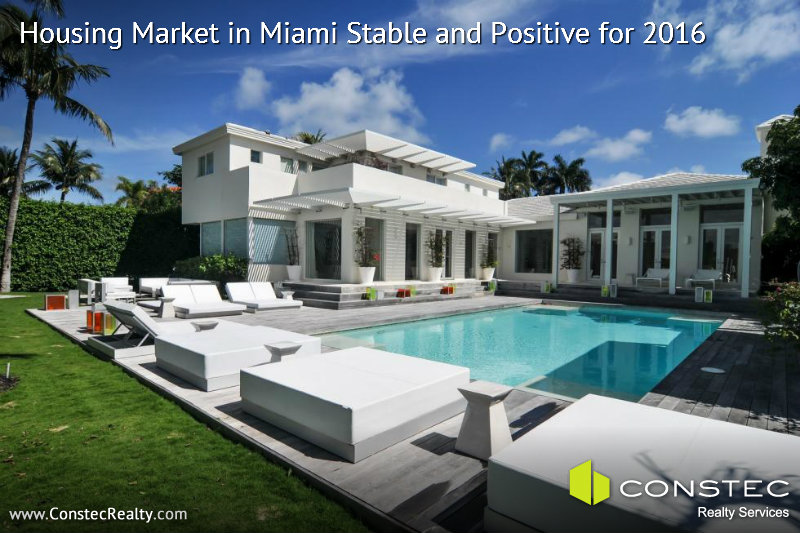 Housing market in Miami stable and positive for 2016
With the arrival of the year it is common to find articles about the real estate market projections for the year that started. Although no one has a crystal ball, here is a brief summary of what we and other specialists expect for 2016 regarding the real estate market. Our focus is on the Miami real estate market.
Healthy market but at slower pace
With some price adjustments, 2016 should be a stable year for the real estate market in Miami. In recent months, sales have slowed down and prices, especially condominiums, rose sharply in the last two years. Now the consensus seems to be that things will continue much the same with slower adjustment to the prices of condos which should help ensure a more stable market for 2016.
Why don't we expect a better year for 2016? Well, the worldwide economic problems; especially in Latin America and Europe, are slowing foreign purchases of real estate in Miami, especially the new condominium/pre-construction market. In addition, foreign currencies have lost value against the US dollar which has affected the purchasing power by foreign nationals, mainly from Brazil, Argentina, Chile and Venezuela.
A year for buyers
The increase in rent prices and the low interest rates will lead to an increase of buyers in the market for 2016. Buying a home will remain a solid investment.
Some tips for buyers in 2016
Understand the area/neighborhood where you want to buy and how the real estate market works in that particular area. (Miami Neighborhoods)
Learn to separate true value from things that do not add any real value to a property.
Do not get caught in a price war when it really is not meaningful to you. Think what makes the most sense for you, your family and your investment.
Learn which kind of renovations really add value to a property.
Choose a realtor who really knows the market you are interested in; and above all, puts your interests first.
To work with Andres, your experienced luxury realtor, and Constec Realty Services, an established real estate agency that specializes in luxury Miami real estate, contact us now.
---
Posted on September 22nd, 2015
Bigger is Better – Miami Oversized Condos
Luxury amenities, ocean views and proximity to posh nightlife have been the keys when it comes to luxury condos in Miami. Now, there is a new piece to the equation, space. Square-footage is becoming more important in the Miami condo scene. The sizes of luxury condos are increasing. Buyers want size and space to go along with the amenities and scenic views.
Not only are condo sizes increasing, but condos are being combined to create mega condos, sometimes combining as many as five units into one.
New Miami Oversized Condos
Oceana Bal Harbour offers three floor plans between 3,000 and 4,000 interior square feet. Those are regular units, not the penthouses.  Penthouses sizes soar in size from 5,904 to 9371 interior square feet. At Oceana Bal Harbour, the terrace space is just as huge as the interior with some floor plans having more exterior space than interior. The result of this is floor plans with a combined interior/exterior space of over 19,000 square feet for some units.
Estates at Acqualina es otro edificio de condominios de lujo en construcción con planos de planta de gran tamaño. La planta más pequeña de aquí tiene 260 metros cuadrados interiores y la mayoría de ellos están en los 280 a 465 metros cuadrados.
Faena House's A and B floor plans have interior square-footages in the 4,000s.
Existing Miami Oversized Condos
Apogee South Beach is where the phenomenon of Miami oversized condos began. The floor plans at Apogee are all in the 3,000 and 4,000s.
St. Regis Bal Harbour has many combined units. In one of the largest condo transactions in history here in Miami, five combined units sold for $24.5 million last July. Most of St. Regis floor plans are over 3,000 square feet to begin with, even before being combined!
One extreme example of these mega-condos is at The Setai in South Beach. There a family began by purchasing a pair of side-by-side units in the building, then began offering buyouts to their neighbors. It took eight years, but the family was able to combine five units for a total of 5,400 square feet on the 33rd floor. You gotta have room for your billiards room, full sauna and massage areas. Oh and wine cellar.
To work with Andres, your experienced luxury realtor, and Constec Realty Services, an established real estate agency that specializes in luxury Miami real estate, contact us now.

---
Posted on June 10th, 2015
New Mobile Real Estate Website Features
These are some of the features for our mobile real estate website
Property Search – Miami property search form
Search by Map – Search directly on the map
Buildings – View floor plans, photos, info and all available properties by luxury buildings in Miami
Pre-Construction – View floor plans, photos and info for new pre-construction projects in Miami
Luxury Homes – Browse luxury homes for sale in Miami
Luxury Condos – Browse luxury condos for sale in Miami
Miami Areas – Learn about the different neighborhoods of Miami and search condos and houses by area
Why Use Us? – Why should you use our services? Find out here!
Property Search and Search by Map
The most important part of a good mobile real estate website is the ability to quickly and easily search for properties. With our mobile website, you can do this in a couple of different ways. You can use our Property Search form or you can Search by Map. When searching for properties, you can choose the location in one of three ways. You can…
Select one of the predefined Miami areas
Enter an address to view what is available nearby
Use the most recent location on the map, if you have been viewing properties on the map
You then select a number of criteria like: bedrooms, bathrooms, square feet, etc… and then choose to view your results in a list or on the map. That is all there is to it. When needed, you can change or reset your search criteria on the Property Search form.
Search by Map lets you view properties available instantly. You can change the search criteria later on to suit your needs. You can open up info-windows for each property by clicking on the property icon directly, or by using the control at the bottom of the map you can scroll through all the properties on the screen.
Easy Ways to Contact Us
From the homepage you can click Contact Us to fill out our contact form. At the bottom of every page, there are links to call, text and e-mail us.
Watch this Short Video to see Mobile Website in Action
To work with Andres, your experienced luxury realtor, and Constec Realty Services, an established real estate agency that specializes in luxury Miami real estate, contact us now.
---
Posted on April 26th, 2015
New Condos in Pre-construction in Miami Offering Extra Luxury
The new condos in pre-construction in Miami are offering more and more luxury. The standard luxury offerings of high ceilings, large pools on rooftop terraces and European kitchens are just the beginning in today's market.
Now they offer:
Elevators for your car
24-hour dog walking services
Movie theaters
Bowling alleys
Monumental sculptures by famous artists
Safe deposit boxes like the ones in banks.
Even special glass between kitchen and living room that become opaque when you want guests not to see the movement in the kitchen
This new trend of ultra-luxury started when developers needed to capture the attention of buyers in order to demand deposits of 50%, which has become the norm for new condos in pre-construction in Miami. They make these new projects so super glamorous that the additional investment is appealing to many.
Everyone Wants to Stand Out
The name of the game is to stand out and developers are trying to make sure their projects are the ones potential buyers want to see first.
Another thing developers are looking to offer is full service hotel-style amenities within residential buildings. Security service and 24-hour concierge have become almost standard for pre-construction projects in Miami.
The Ritz-Carlton Residences in Sunny Isles Beach offers similar amenities to those of a South Beach hotel including a restaurant, bar in the pool, restaurant service on the beach, dog walking services, pet salon, beauty salon and a marina.
In this new construction cycle, everyone is trying to meet demands from buyers from all points of view; with amazing facilities not only inside the buildings but outside as well. Outside these luxury buildings, you will find outdoor fields and large man-made beaches.
Latest Technology
In this digital age, advanced technology is also becoming very present in the new condos in pre-construction in Miami. We're talking about things as basic as an iPad that controls the lights and air conditioning to applications on your phone that can call your car in the robotized parking. Residents can enter the building inside their car, then scan a digital card and an automated elevator takes the car to a parking spot.
Value for the Money
The idea is to provide amenities, facilities and services that are actually used by residents because buyers do not want to pay high maintenance fees for services that they will never use.
Some of the new condos in pre-construction in Miami that stand out for its amenities and services are: FaenaHouse in Miami Beach, 1000 Museum in Biscayne, Park Grove in Coconut Grove, Brickell City Centre, among others. (Full list of new projects in pre-construction in Miami)
Big Names
Big brand names in the world of fashion and automobiles are also putting their names on new construction projects: Armani / Casa Tower, Fendi Chateau Residences and Porsche Design Tower.
Fine Art
Also, pieces of art by famous artists from around the world are being used in these new projects. Examples of this trend are SLS Lux Brickell with Botero sculptures and Oceana Bal Harbor with two monumental sculptures by Jeff Koons. Oceana Key Biscayne, has a mural by the Brazilian artist Beatriz Milhazes behind the concierge desk that offers services such as cleaning cars, booking tickets for theaters and restaurants and taking care of your apartment when you are out of town.
To work with Andres, your experienced luxury realtor, and Constec Realty Services, an established real estate agency that specializes in luxury Miami real estate, contact us now.
---
Posted on March 30th, 2015
1100 Millecento Has Been Completed
1100 Millicento, the third large post-crash luxury condo tower has been completed in Brickell. Mybrickell and BrickellHouse are the other two. The building received its Temporary Certificate of Occupancy. Residences in 1100 Millecento have reached the resale market are are available. Floor plans include 1 and 2 bedroom layouts, as well as studios and they all adhere to a strict attention to modernism. This building is brand new.  Contact us now for assistance in securing one of these modern residences or to assist in the sale of your condo at 1100 Millecento.
1100 Millecento Residences for Sale
Right now, there are 28 units in 1100 Millecento available for sale. The available 1100 Millecento residences range in price from $315,000 to $799,000.
1100 Millecento Residences for Rent
There is also a large inventory of rentals available from $1,750 to $3,650 / month. At this moment, there are 48 rental options to choose from.
1100 Millecento Building Details
1100 Millecento stands 42 stories tall and is the product of the famous Italian design firm Pininfarina and Carlos Ott. In total there are approximately 382 Brickell condos for sale with views of the city. This building oozes more style than most of the other Miami-area buildings.
Some of the amenities include a private screening room with theater style seating, a state-of-the-art fitness center, health spa and more. The Cielo Room is located on the rooftop. This is a  "Smart Building" with touch panels that allow residents to request various services.
Watch this video to learn more.
1100 Millecento Location
1100 Millecento is located in Brickell. Mary Brickell Village is close by and has bars, restaurants and shops. Lincoln Road and Ocean Drive are just across Biscayne Bay on the barrier island of Miami Beach. To the southeast is Key Biscayne and its beaches and parks overlooking the water.
To work with Andres, your experienced luxury realtor, and Constec Realty Services, an established real estate agency that specializes in luxury Miami real estate, contact us now.
---
Posted on January 3rd, 2015
Should Real Estate Investors Get Their Real Estate License?
Whether or not to get your real estate license depends on the size of the investment and property type that you are pursing.
Single-Family Homes or Condos
If you are looking for single-family homes or condos then the short answer is yes. When looking to acquire property you can source your own deals and when you are ready to negotiate you could agree on a fee/compensation with another licensee to represent you in the transaction. When selling real estate you have the choice of deciding whether you or someone else is better suited to represent the property during the sale.
Although you have a real estate license you might still want to have someone represent you. The main reason is because as a principal you don't want to negotiate yourself. It is best to keep some distance from the other party. It generally helps attain a better deal. Assuming of course that the person you pick as a negotiator is good at it.
Larger Deals / Commercial Real Estate
For those who are looking to get involved in larger real estate deals or commercial ones, you might be better off working with multiple agents as this is still a relationship business. You will be able to evaluate more deals. If that is your focus, the a license is not as useful.
Long Term
Regardless of whether you have a real estate license or not, do not judge a real estate transaction based on the commission you need to pay. If you are in for the long term your local real estate agents are your allies. A reputation as an investor that appreciates their work and connections could help you have first looks on real estate.
To work with Andres, your experienced luxury realtor, and Constec Realty Services, an established real estate agency that specializes in luxury Miami real estate, contact us now.
---
Posted on December 3rd, 2014
Art Basel Patrons Double as Luxury Real Estate Buyers
This is the week of Art Basel in Miami and that means many serious art collectors from around the world are here in the city. They are not only shopping for art but many of them are also really interested in properties in Miami or at least understanding the movement of the real estate market in the city, which for many is becoming the next major city worldwide.
Normally buyers in the art world are buyers of luxury properties. The properties that are sought are those that incorporate nature into the residence. That is, most seek properties with ocean, canal, bay or garden views, with large windows, lots of light and high ceilings. It is important that the art could be well exhibited and that the property itself is a piece of art.
Here to Learn About the Latest Developments in Miami Real Estate
Many others seek to get an idea of what is happening in the real estate market in Miami and learn about new developments in Brickell, Downtown, Coconut Grove, Miami Beach and Sunny Isles, among others. Buyers today are more demanding about the architects who design each development, amenities, construction materials and finishes as well as the interior design of the residence.
There seems to be a lot of interest in what is happening in preconstruction in Miami. Brickell City Centre, a new $1.5 billion dollar master-planned mixed-use urban development in Brickell, captures much attention. In Coconut Grove, at this time, the attention is held by two luxury towers that are under construction in front of Biscayne Bay; Grove at Grand Bay and Park Grove. In Miami Beach, Faena House is undoubtedly one of the most talked about projects.
Art Basel is a Boost to Many Industries
Art Basel has always been a real boost to the local economy with a significant impact on many industries. This, coupled with a lot of press articles on the development of luxury projects in Miami has created high expectations in the city which for many is considered the new New York, London or Singapore.
To work with Andres, your experienced luxury realtor, and Constec Realty Services, an established real estate agency that specializes in luxury Miami real estate, contact us now.
---
Posted on October 28th, 2014
Have you ever wondered what options you had when buying a Miami luxury single-family home?
How many luxury single-family homes are in Miami?
Where they are located?
How many of them are available?
How many are sold each year?
First let us define Miami luxury single-family homes as those that are valued at or above $3 million. As per the Miami-Dade Appraiser's Office 2013 Market Valuation there are 1433 single-family homes in Miami-Dade County that have appraised for more than $3 million. Although this doesn't include homes that have appraised under $3 million and have sold for over that amount.
How many are there? Where are they?
The top three areas with the highest concentration of luxury single-family homes are
Key Biscayne (with 235)
Gables Estates (with 188)
and Mid-Miami Beach (with 158)
What is available now?
If you are in the market, right now there are 351 of these luxury single-family homes available. There is a nice inventory for homes between $3 and $5 million, $5 and 10 million and $10 and 20 million. There are even 14 ultra-luxury homes available priced at over $20 million. These homes have a ratio of waterfront to dry lot of about 2-to-1.
 How many have sold?
Over the past 12 months, 211 Miami luxury single family homes have sold. A little more than half of them went for between $3 and 5 million. There were 16 that sold for over $10 million, including 2 that went for over $20 million. The ratio of waterfront to dry lot for homes sold over the past year is a little higher, but still close to 2-to-1.
Miami Luxury Single-Family Homes Infographic
Here is our first infographic. It visually shows where luxury single-family homes are concentrated, how many of these luxury homes are available now and how many have sold over the past year.
To work with Andres, your experienced luxury realtor, and Constec Realty Services, an established real estate agency that specializes in luxury Miami real estate, contact us now.
---
Posted on October 8th, 2014
What can you offer a seller to obtain a better price? How do you make them comfortable with you as a buyer?
Let's say you have found a house or condo in Miami that meets your needs and decide to negotiate the purchase with the hope of agreeing to the terms of contract and eventually closing. All other elements aside, the most relevant term parties' bargain over is the purchase price. You can haggle over price and reach some satisfactory result but it is my experience that there are also other terms in a purchase that can help you as a buyer attain an even better price.
This is not a complete list and usually there are intricacies, needs and desires which vary from seller to seller, but, in general terms, the levers you can move to achieve better pricing as a buyer are in order of importance:
Negotiating Home Price – Large Earnest Money Deposits
This shows commitment. You are also removing remarketing risk from sellers. It also helps prioritize offers in the event of simultaneous offers being presented to sellers. Sellers are provided greater certainty and can more easily move on to their next property.
Negotiating Home Price – Reasonably Short Due Diligence Periods
Request the time that you need in order to become comfortable with the property. Assume that upon a professional inspection everything will be and look similar to what you have seen through your untrained visual inspection (assume there are no hidden damages). Also make sure that listing agent has told you and seller has disclosed through a written disclosure statement the condition of property prior to presenting an offer.
A condominium in a newer building will require less time for you as a buyer to become comfortable than a historical waterfront villa with seawall. In the event you need more time you should be able to negotiate an extension to the due diligence period you originally requested. As long as you communicate openly with your counterparty they would understand you need further inspections to become comfortable with the home and eventually move to purchase.
Negotiating Home Price – Open Communication with Counterparty
I just touched on this point but to expand let me just mention that many times sellers don't know that the house has hidden damages. If you bring them along though the process they might be willing to offer a discount based on what was discovered.
Negotiating Home Price – Offers Derived by Market Value Valuation
Lastly, you are attempting to get the best price for the home. Most likely your first offer will not be the offer the seller will accept; but offering substantially below market value will denote a lack of understanding of market conditions and hence your seriousness as a buyer, or worse yet, imply that you believe seller is in distress when the price does not reflect it.
Uncertainty kills deals, while certainty provides the best path for all parties. Economic theory dictates that when facing uncertainty consumers will over estimate costs and underestimate benefits, which is a prescription for disaster in any transaction. The buyer controls the process and has many ways to get out with practically no negative consequences so it is always advisable to use it to your advantage and provide assurance to the seller of your commitment. Sellers will thank you with a better price!
To work with Andres, your experienced luxury realtor, and Constec Realty Services, an established real estate agency that specializes in luxury Miami real estate, contact us now.
---
More Posts