For Sale
For Rent
About
Map
Properties for Sale in Deering Bay
Condos for Sale in Deering Bay
| | Type | Price Range | # Available | Browse |
| --- | --- | --- | --- | --- |
| | All Condos | $300,000+ | 14 | |
| | Luxury Condos | $1,000,000 - $3,000,000 | 11 | |
| | Ultra Luxury Condos | $3,000,000+ | 0 | |
Homes for Sale in Deering Bay
| | Type | Price Range | # Available | Browse |
| --- | --- | --- | --- | --- |
| | All Homes | $500,000+ | 2 | |
| | Luxury Homes | $1,000,000 - $3,000,000 | 2 | |
| | Ultra Luxury Homes | $3,000,000+ | 0 | |
Rental Properties in Deering Bay
Condos for Rent in Deering Bay
| | Type | Price Range | # Available | Browse |
| --- | --- | --- | --- | --- |
| | All Condo Rentals | $5,000+ | 7 | |
| | Luxury Condo Rentals | $10,000+ | 0 | |
Homes for Rent in Deering Bay
| | Type | Price Range | # Available | Browse |
| --- | --- | --- | --- | --- |
| | All Home Rentals | $5,000+ | 1 | |
| | Luxury Home Rentals | $10,000+ | 1 | |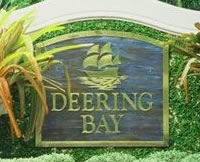 Deering Bay Real Estate : Deering Bay Condos & Homes for sale
Deering Bay is situated at the southern tip of Coral Gables overlooking Biscayne Bay. Build in 220 acres of land, Deering Bay offers a mix of luxury mid-rise condominium towers, spacious villas, charming townhouses and single-family estates surrounded by a beautiful natural environment and magnificent views. It offers its Country Club with all the amenities of a resort-style private club with its 30,000 square-foot clubhouse, the only waterfront golf course designed by Arnold Palmer and three deep water marinas that can accommodate boats of up to 120 feet in length allowing direct access to the Atlantic Ocean and Biscayne Bay.
Deering Bay's provides a range of home options to accommodate any lifestyle. Three high-rise condos, and two mid-rise condos with panoramic views, private pools and fully enclosed parking for residents. Club Villas which are adjacent to the club, golf course, and two of the marinas. Finally, the Estate Homes located on a secluded peninsula within Deering Bay; these homes offer the ultimate in privacy and each residence has either a water or golf course view.
Among the many perks of living in Deering Bay is its proximity to the best public and private schools in Miami.
Map of Deering Bay