A perfect storm in the Miami real estate market is creating a home buying frenzy.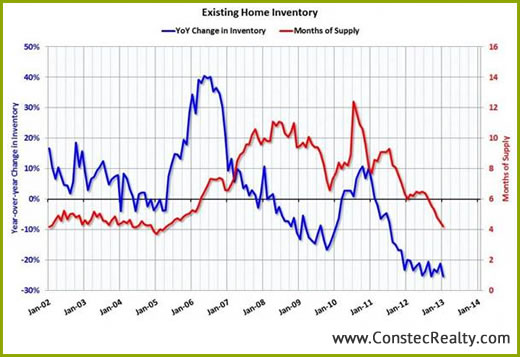 With inventory dropping and demand skyrocketing, the Miami real estate market is being driven into a frenzy.

It is overwhelming to see what is happening in Miami when properly priced homes are hitting the market. They are snapped up quickly with many of the listings being sold within the first week (with a closing happening shortly thereafter). Sellers are getting their asking price as multiple bids poor in. It is starting to look a little similar to the boom days of 2005 and 2006. As demand increases and supply diminishes, prices rise. Average prices are up double digits this year, when compared to last year.

The greatest indicator of a market's balance is the number of months of supply. A balanced market has about 6 months of inventory, or six times the number of homes that are sold in a month. As of March, Miami-Dade had a 4.8-month supply of single-family homes and a 5.8-month supply of condos for sale and Broward had a 3.6-month supply of single-family homes and a 4.4-month supply of condos.

How is this different than the previous boom? Today's buyers are coming to the table with cash and actual equity. Zero down loans with inflated income and assets aren't flying around as they did before.

What is causing this situation of low inventory, high demand? It is somewhat of a perfect storm. For one thing, interest rates are very low, 3.60 percent for a 30-year fixed-rate mortgage. That makes it very enticing to want to buy. Banks are beginning to ease the terms on mortgages. Mortgages with 20% down or less are becoming more common, thus allowing more people to enter the market. Buyers are seeing prices rise and they are getting antsy with a sense of urgency that they must act now or miss out. Then there is the group of people that want to put their homes up for sale but cannot because they are still under water. Four out of every 10 homes have debt greater than the value of their homes.

On top of all that, Miami real estate is viewed around the world as a very safe place to park your money. Foreign investors as well as financial institutions are buying up properties left and right. Miami is ranked number two, just behind Los Angeles for foreign investors shopping for U.S. properties.

During this climate of low supply and high demand, working with seasoned professionals like Constec Realty is even more important. They can monitor listings and find properties that fit the client's criteria as soon as they hit the market and can ensure you secure the home at the right price.