Miami Real Estate Boom 2.0 - Dozens of new pre-construction projects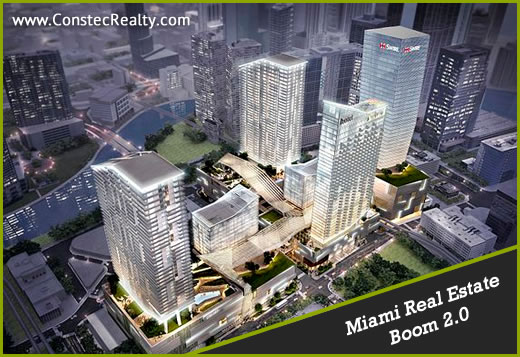 Developers in Miami are reacting to the unexpectedly swift condo recovery in a predictable way, they are building more condos. The developers continue to rely on robust demand from foreigners who are willing to put a down payment of 50 percent or more of the price for a preconstruction condominium.

With foreign buyers scooping up properties, developers are trying to capitalize on the demand. In 2013, international buyers are continuing to show strong interest in Miami properties. Nearly one in three international transactions in Florida are in the areas of Miami/Miami Beach. Seventy percent of those international transactions are from Latin America. The top three countries of origin are Venezuela, Argentina and Brazil.

There are 99 condo projects in the pipeline in the greater Miami area, with 21 under construction, according to data recently published. Brickell and downtown, where the resurgence of condo construction began after the crash, are nearly built out/sold out with a few exceptions. One of those exceptions being Brickell CityCentre, the billion dollar project that will include a shopping center, a hotel, a wellness center, serviced apartments, two office buildings and two residential towers. The Brickell CityCentre is under construction and we are already taking reservations.

There are two other projects in preconstruction in the Brickell area that are not already sold out: The Bond at Brickell and Echo Brickell. The construction of Bond, a 44-story, 323-unit luxury condominium located at Brickell Avenue, will begin construction at the end of 2013 and will be completed by the end of 2015. Units will start at $300,000 for a studio and go over $1 million for larger units which go up to three bedrooms.

Echo Brickell will bring a boutique luxury development to the Brickell Corridor., spanning over 700 feet with only 166 units. All residences will be delivered furniture ready with interiors inspired by Carlos Ott. As the sister project to Echo Aventura, Echo Brickell will provide similar amenities such BBQ's on eight-foot terraces and an infinity edge pool with unobstructed water views. With only 166 Residences, do not miss this opportunity; call or e-mail us.

"Less-is-more" it is also the philosophy behind the construction of the The Grove at Gran Bay in Coconut Grove. This project could have had more than 400 units, but instead it will have 96 with 57 in one tower, and 39 in the second. The property sits on 3 acres and has 320 feet of frontage on South Bayshore Drive. Prices start at 1.1million and go up to 5 million. The ground breaking of this luxury building just happened at the end of May and will be ready by the end of 2014.

In the Aventura area there are also two interesting pre construction projects: Marina Palms and Echo Aventura. Echo Aventura will be located on the last 5 acres of available waterfront in Aventura. The two connected towers will be 11 stories tall and have 190 total units. Types of units available include two to five bedrooms and the unit sizes range from 1,500 to 4,020 square feet. This is a first time collaboration between the famous architect Carlos Ott and the interior design of Yabu Pushelberg. Echo Aventura will be finished by 2015.

Marina Palms, is a nautical enthusiast's dream. It will be situated on over 750 feet of waterfront and will offer stunning views of its private state of the art marina, the Intracoastal and beyond to the Atlantic Ocean. The tower will have 468 residences in two towers overlooking the 110-slip marina.

Off-plan sales have dried up in many parts of the world, where buyers are reluctant to commit money to a project until there is proof it will be built. But South Florida continues to be bolstered by a steady stream of customers from Latin America, who typically account for 50 percent or more of a condominium project's investors.

In Today's pre construction market most of the developers are asking for a 50% deposit and they won't start construction until 80 percent of the project has been sold. It is a very, very safe way of developing. Get a bigger deposit down and the buyers don't walk away.

It is surprising how fast the market has rebounded but it is a different market now. With bank financing for condo developments scarce, developers are largely funding their projects with pre-sales to buyers. In the past buyers typically paid 20 percent upfront with the balance on handover.

The low deposits famously encouraged flippers and speculators, who looked to quickly resell the project, in many cases before it was built. When the market turned, many buyers walked away from their deposits rather than purchase a unit that had already lost a large chunk of its value. Clearly the new tendency has significantly changed the current market.