New Group of Foreign Investors Takes Interest in Miami Real Estate.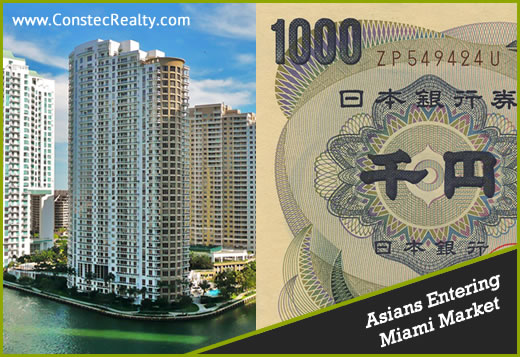 Asians find new love in South Florida luxury properties. Interest in USA properties moves from West Coast, due to proximity to home base, further afield to Greater Miami area.

Over the past few years, foreign investors have been responsible for a large percentage of South Florida residential acquisitions. Most of those foreign investors have been from South America, Canada and Europe, but changes are on the horizon. Chinese buyers made up the largest foreign segment of home buyers in San Francisco and New York and we could soon see something similar in Miami.

The Asian Market is coming to Miami. Miami luxury real estate is becoming more and more intriguing to the Chinese and Japanese. Chinese media, like the South China Morning Post, is actively watching real estate developments in Miami.

This year, Asians have accounted for 5% of the foreign national real estate purchases in Miami and 11% in Fort Lauderdale. Those percentages are anticipated to rise.

Developers have taken notice of the increased interest in Miami real estate by Asian investors and are anticipating this interest to grow rapidly. There is already competition for establishing relationships with Asian investment advisers. That is the key, because foreigners like the Japanese rely very heavily on their advisers and counselors when investing in real estate.

The Miami Association of Realtors has also noticed this trend and has traveled to property shows to major Chinese cities such as Chengdu, Guangzhou, Shanghai, Beijing and Hong Kong this year.

Existing luxury condo towers such as Asia on Brickell Key and MEi in Miami Beach as well as preconstruction projects are also Asian-inspired are hoping to take advantage of the Asian Market.

It will be interesting to see how this develops as airlines purchase long haul planes and eventually new routes open with direct flights from Tokio, Hong Kong and other Asian cities to Miami. It would reduce flight time by 3 to 4 hrs and the inconvenience of connecting flights.